We are pleased to announce one of our plenary speakers for LOGIC 2018 – Dr. Mita Dasog from Dalhousie University!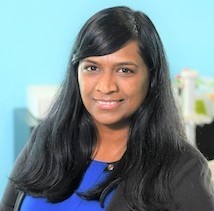 Dr. Mita Dasog obtained her Bachelors of Science in 2009 from the University of Saskatchewan. She then moved to the University of Alberta to begin her Doctoral studies with Dr. Jonathan Veinot where she focused on the syntheses, properties, and applications of silicon based nano/micromaterials and thin films. After a short stay at Technical University of Munich as a Green Talents visiting scholar, Dr. Dasog went on to hold an NSERC post-doctoral fellowship with Dr. Nathan Lewis at the California Institute of Technology, where she studied the interaction of light with semiconductors. She joined the Dalhousie University Chemistry Department in July 2016 as an Assistant Professor.
Since beginning her independent career in 2016, Prof. Dasog's research interests include the solid-state synthesis of functional nanomaterials, mesostructures for solar light harvesting, and printable thin conducting oxide (TCO) nanoparticle inks. Dasog has received numerous awards including the Canadian Council of University Chemistry Chairs (CCUCC) Chemistry Doctoral Award, the CSC Award for Graduate Work in Inorganic Chemistry, a "Top 25" Global Young Scientists in Sustainable Research award sponsored by the German Federal Ministry, and was recently listed among top 150 Canadian women in STEM fields by hEr_VOLUTION, a non-profit organization.
She will be joining us on Saturday May 26th to share her inspiring path to a career in chemistry. Registration for LOGIC 2018 is now open, sign up here!